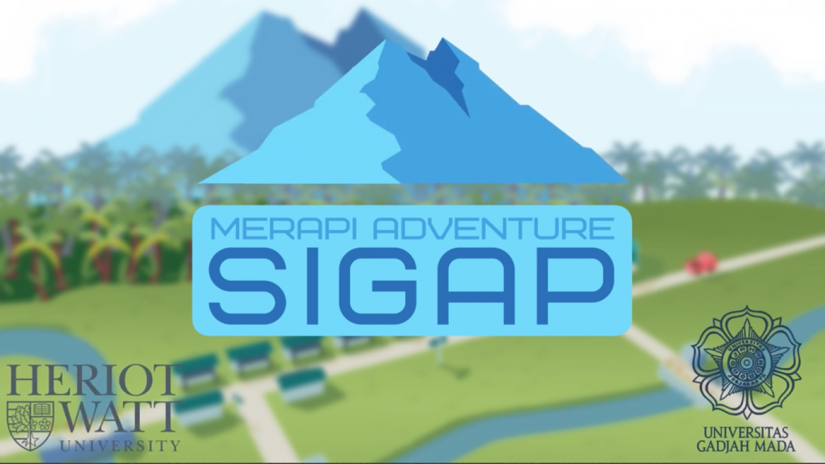 A research team from the Faculty of Engineering, Universitas Gadjah Mada, Dr. Hilya Mudrika Arini (DTMI), Dr. Tri Mulyani Sunarharum (DTAP), and Dr. Budi Hartono (DTMI), in collaboration with researchers from Heriot-Watt University, Dr. Agnessa Spanellis, develop a game-based simulation for volcanic eruption disaster response called SIGAP-Merapi Adventure. This research project is also a community service project funded by the Global Challenges Research Fund, United Kingdom. It has become a part of a Research Project called Multi-Hazard Prediction and Disaster Response Management in Indonesia.
This project is carried out to help real challenges faced by some developed countries related to natural disasters, including volcanic eruptions. This project aims to determine whether game-based learning can affect community preparedness and response toward natural disasters and improve community resilience.
The researchers developed this game based on research into a case study in Desa Argomulyo, Sleman Regency, located close to Merapi Mountain. The research involved some interviews with Community Key Persons, Destana/Forum PRB, and BPBD DIY (Regional Disaster Management Agency) to make current education strategy mapping for the Merapi eruption. The researchers can determine how players respond to disasters and find several strategies to evacuate during an emergency from this game. This game also examined the player's capacity and found out how they respond and face several problem scenarios while saving their community from the eruption.
This game is available on PlayStore and can be downloaded through the link below.
Download SIGAP-Merapi Adventure
At the end of September 2021, the team is going to conduct a Workshop to disseminate Game SIGAP Merapi Adventure to stakeholders in Desa Argomulyo, Sleman Regency, and involve the local government and other stakeholders in Sleman Regency and Yogyakarta Province in integrating the game, SIGAP Merapi Adventure, into their related program and policy. These research results are expected to be helpful for the wider community and support national strategies in improving disaster mitigation and response to be more effective.